Survey Results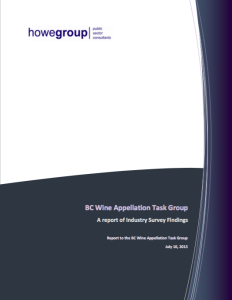 From June 15 to July 3 we conducted an online survey is to seek input from BC's wine industry stakeholders to inform recommendations to improve the system of appellations and certification of wine produced from 100% BC grapes. The survey asked for opinions regarding appellations (geographical indicators), certification of origin, BC VQA, tasting panels and audits.
This survey was conducted by an independent BC consulting firm, the Howegroup, on behalf the BC Wine Appellation Task Group. All responses were anonymous and confidential. No one from the Task Group will have access to individual responses.
Download the survey report.